Safety Pull Cord Switch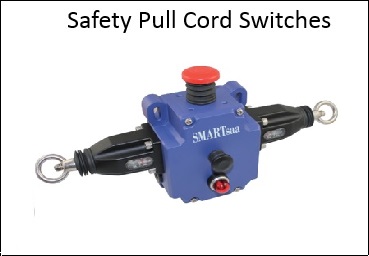 The rope is to be hooked around the work area and at convenient height such that the operator will find is convenient to pull when in an emergency by using turn buckle, spring and thimbles.The switch resets when rest push button on switch is pressed.
The switch designed for different rope length up to 120 meters is available. Single side operation (left or right side) as well as both side operation options are available.
Special switches with rope break indication contact are also available. LED indication lamp can be provided for remote indication
| | |
| --- | --- |
| Current Rating (In Amps) | 10 Amp |
| Switch Type | Waterproof, Weatherproof |
| Material/Body | Metal, Plastic |
| Application | Safety Rope Switch for machines |
| Power/Voltage | 230 V AC |
| Cable Entry | 1/2 inch NPT |
| Rope length | Up to 120 Meters |
| IP Rating | IP 67 |
| Material | Plastic, Metal |
SMARTsaa offers machine Safety Cable Pull Switches for use on machines like cutting machines, printing machines and wood working machines for emergency stoppage. To be used with steel wire. The contacts of these switches are to be interlocked such that when switch is operated the machine should stop, protecting human, machines and other vital and machine elements.
Salient Features:
The switch works actuates contact when rope is pulled
The switch also actuates when rope is broken, slack
The switch provided with reset button for local reset
Optional LED indicator
Robust design
Compatible to EN418 norms
Confirms to EN60947-5-5 , IEC60947-5-1
Available in Single side operation or both side operations
SPECIFICATIONS:
Safety Cable Pull Switch
Operation: Left, Right, both way operations
Rope length: Up to 120 Meters
Contact arrangement: 1 NO + 1 NC, 4 NC / 2 NO, 2 NC / 1 NO,
Enclosure: Field mounting IP 65
Accessories: Pull Cord Cable, Turn Buckle, Wire Rope Thimble (Rope Eye), Pulley, Stay Bolt, spring
Additional Information:
Pay Mode Terms: T/T (Bank Transfer)
Port of Dispatch: Mumbai
Production Capacity: 200 per month
Delivery Time: 2-3 weeks
Packaging Details: EXport Worthy