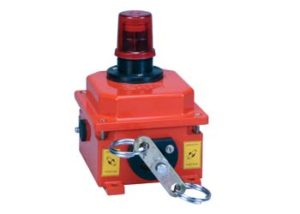 Pull Rope Switch- Rope Switch for Conveyor is specially designed, manufactured and exported by SMARTsaa for stopping of conveyor by just pulling the rope in case of emergency. Provides contact operation which can be used for motor stoppage & audio visual alarm. Reliable contact actuation is provided by Pull rope Switch.
Heavy Duty Pull Rope Switch is housed in robust and heavy duty cast aluminum enclosure with IP 65 Grade of protection. Spring steel rings at both ends provided for fixing the rope. Enclosure is Cast Al with epoxy painting. The switch is designed with manual reset type of mechanism. Pull  Rope switch is installed on conveyor at every 30 meters. GI Rope is tied to the end rings of the handle. When the rope is pulled from any side, the switch is operated. Unless and until the handle is reset to normal position manually, the switch remains in operated condition. Hence reliable operation is ensured by Pull Rope Switch.
Following models are available:
PC 101: Pull Rope Switch with 1 NO + 1 NC contact
PC 202: Pull Rope Switch with 2 NO + 2 NC contact
PC HR : Pull Rope Switch with E Button  for small assembly conveyors
We offer Best Price for Pull Rope Switch with fast delivery. We also offer equivalent to  Pull Rope Switch Telemecanique and other brands.
All above Pull Rope Switches are field mounting having IP 65 enclosure, available in various other enclosures materials to suite site conditions:
C: Pull Rope Switch Cast Aluminum Enclosure
D: Pull Rope Switch FRP Enclosure
CI: Pull Rope Switch Cast Iron enclosure
F:  Pull Rope Switch Flameproof Enclosure for hazardous area
Optional Accessories:
PCW: Pull Rope, Multi strand GI wire with PVC coating
TS:   Pull Rope Switch with Terminal Strip inside the switch
JB:   Pull Rope Switch with Junction Box for ease of wiring
MF:  Pull Rope Switch with Mechanical Indication
IL: Pull Rope Switch with Neon Indicator / with Indicating Lamp
HR : Pull Cord E Stop,with Local Emergency Switch
CG:  Pull Rope Switch with Cable gland
BP:  Pull Rope Switch with Base Plate
PCA : Addressable Pull Rope Switch for fast and instant indication of operated switch
SMARTsaa Pull Rope Switch Price is affordable and economical.
affordable and economical