SMARTsaa offers Diaphragm / Membrane Level switch for measuring level of free flowing and dry material like food grains and powders and bulk goods.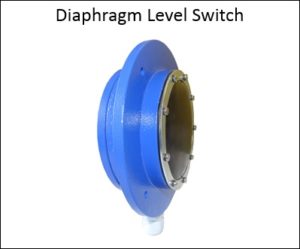 APPLICATION:
Sensing clogging of material on screw conveyor
Boot level detection of bucket elevator
Detect level of food grain in hopper
Level detection for bulk goods
Detects bin overflow and maintain a pre-determined material level
Can be used as Chute Block Device
OPERATING PRINCIPLE:
The pressure of the product on the membrane operates a limit switch inside the switch compartment. The contact of limit switch is used for control action.
FEATURES:
Point level switch
Low cost but Reliable
No power supply required
Installation is simple.
Flush mount, non-intrusive
Ideally suited when vessel size or internal clearance is limited or where protrusion into a vessel is not acceptable
Over-Pressure Protection for screw conveyor
SPECIFICATIONS:
Enclosure : Cast Al, ABS Plastic, IP 40
O/P                    : 1 C/O relay contact rated for 10 Amp resistive at 230 V AC
Mounting : Flanged
Pressure for detection : Approx 2 N min. Normal Sensitivity: 60 gm
Operating Temp        : 10 – 80 degree Cent
Diaphragm Material : SS / Neoprene Rubber
Particle Size                : up to 30 mm and a density of 0.3 to 2.5 g/cm3
DETAILS REQUIRED:
Material to be sensed, Particle size, Bulk Density, Mounting position (Dimensions and drawing of hopper), Diaphragm Material, Max. Operating Temp, Max. Operating Pressure