Advanced RF Level Switch with "I am working" Feedback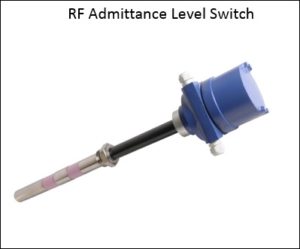 Level sensing of ESP hopper is always a pain and disputed area. As conventional RF level switches fitted to ESP hoppers misbehaves and gives wrong indication of level.
The operator do not know from outside, whether switch is operated because of reaching of actual ash level or due to coating on rod or rat hole formation
Feature
s of SMART RF:
"I am working "feedback. The operator can see whether RF switch is working OK.
Gets indication weather level is rising or falling at switching point. This is possible with LED array. When level is increasing, the LED array display will increase and when falling, will decrease.
Operator gets feedback when RF switch Rod is coated with material. Detect Rat Hole formation.
Easy, one point setting ( for specific material ) by selector switch. No need to adjust sensitivity by blind multi turn adjuster. This feature will reduce time taken for adjusting sensitivity individually at site. For multiple hoppers , once selected, all switches can be set at specified set point.
With failsafe high or failsafe low setting by selector switch
Easy covered and uncovered delay adjustment
Universal supply 90-260 AC / 20-60 DC. Reduce inventory.
Potential free relay contact
These switches are offered with special ceramic and Teflon insulation for measuring level of fly ash in ESP hoppers and level of coal ash in silos.
As fly ash has bulk density of approx 1000 Kg/ m3, level measurement is very critical. By using SMART RF, level of coal ash can be monitored effectively and accurately.
Special sensors with Ceramic coating for areas where temperature can reach up to 450 degrees and Teflon coating where temperature can reach up to 200 degrees are developed.
The protective coating makes it abrasion resistant and enhances life of probe. Special Coat guard circuit makes this probe immune to the deposition of thin layer of material on probe. The working does not get affected due to coating or deposition.
Control Circuit can be integral with sensor probe or it can be mounted remotely if temperature at the product is higher than 100 degree cent.
This level switch is suitable for highly dusty environment. It is also simple to install and easy to maintain.
Ambient temp can be up to 0 to +60 deg for standard models, special models for fly ash where temp is more are having PTFE and ceramic coating.
Specifications:
Type                  : SMART RF
Control Supply : Universal supply 90-265 V AC / 20-60 V DC
Rod Length       : Customer specific
O/P                     : 2 C/O relay contact rated for 5 Amp resistive at 230 V AC
Enclosure          : Control unit: Cast Al, IP 65
Max working temperature: Control unit: 60 degree cent max, standoff or remote arrangement is recommended by which control unit is taken away from hot area.
Process Temp: Up to 200 degree cent for Teflon probe and 450 degree cent for ceramic probe
With selector switch to program switch at site for bottom level or top level monitoring