SMARTsaa offers Bag Filter Controller Solid State Sequential Timer, without Digital Display. This is designed to control the cleaning cycle of On-Line Bag Filters with adjustable ON, OFF & Pause Timing. It is available in various models to suit different output requirements viz. Triac Output and Relay Output.
Custom Built Timer Panels are also available, which are designed as per customer specification.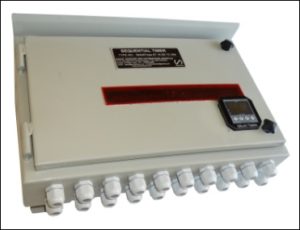 Application:
Bag Filter Timers are used in De-Dusting and Process Bag House in various industries such as: Aluminum, Asbestos, Carbon Black, Clay, Detergent, Gypsum, Limestone, Saw Dust, Steel / Sponge Iron, Solvent Extraction, Non-ferrous, Baggase Dust, Cement, Food Grain Handling, Fly Ash, Iron Ore, Sugar, Chemicals, Fertilizers, Flour, Tea, Ceramic, Coal, Paint Pigments, Milk Powder, Soda Ash, Battery Industries, Wood, Spices etc.
Features :
State of the art, Solid State Design.
Facility of working through D.P. mode, which enhances Bag life
It accepts DP switch potential free contact input directly, hence saves PLC Digital Input.
Designed to reduce the consumption of compressed air, hence reduction in electricity consumption
Solenoid is energized at Zero Crossing of AC cycle to reduce solenoid inrush current. This improves solenoid and timer life.
Separate terminals for solenoid phase and neutral connections, hence no need of separate junction box
Surge suppressors are provided to protect output circuit from high voltage surge generated during solenoid operation
Inputs to the timer are potential free contacts from D.P. Switch and Remote on command from PLC. Remote ON command Potential Signal input is available optionally
Operating sequence can be started or stopped from Remote location or through PLC / DCS system
Manual Purging Facility
Sequence Termination Facility at any desired channel
Adjustable ON Time, OFF Time & PAUSE Time. PAUSE time is optional, which provides the time gap required for building Air Pressure
Control Supply 110V AC or 230V AC
Triac Output voltage is same as the Control Supply, different O/P voltage : Optional
Timer (Supply) ON or Purging ON Feedback Facility
Different models, suitable for 8, 16, 18 & channel
Sheet Steel, IP-55 grade enclosure, suitable for Field Mounting. IP-65 grade Enclosure available optionally
Technical Specifications:
 Supply Voltage    :  110V AC, 50 Hz, or 230V AC, 50 Hz
Input                       : 1) Differential Pressure through D.P. Switch (Potential Free Contact)
2) Remote ON Command from PLC (Potential Free Contact).
3) Remote ON command Potential Signal input is available: optionally
Output                    :   Triac Output, Relay Output
Solenoid Voltage    :  Same as the supply voltage, Different voltages in Triac model: optional
Protection                1) Surge Suppressor circuit for control supply
2) Fuse for Control Supply and Load
3) Surge Suppressor for protection of output circuit
Output Channels      :   8, 16, 18
LED Indication           1) Control Supply, 2) Pulses   3) Channel Indication    4) Timer ON Feedback
ON Time                      : 20 – 200 msec (Adjustable)
OFF Time                     : 2 – 120 seconds (Adjustable), Higher timings available
PAUSE Time                : By additional Pause Timer (Adjustable) Optional
Operation                   :  Auto, Sequential Operation
Sequence Termination:  At any desired channel
Enclosure       1. Only PCB model
CRCA Sheet Steel, Powder coated, WP, IP-55 grade   suitable for field mounting